About Us
Stella's Place Blog
Five Questions with Miriam, Stella's Place Clinician, in Support of Brain Awareness Week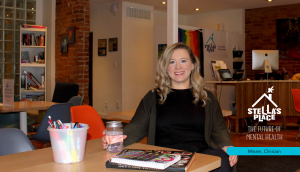 Tell us a bit about your role at Stella's Place and the many ways you support young adults.
In my role as a Clinician, I provide support to young adults, primarily through facilitating groups such as DBT (Dialectical Behavior Therapy), SFSL (Skills for Safer Living) and providing counselling on an individual basis. DBT is designed to help people manage painful emotions and introduce effective and practical skills into their lives, which they can use when they are distressed. These skills are meant to replace other unhealthy and negative behaviours. The Skills For Safer Living group aims to support people with recurrent suicide attempts who want to engage with life safely.
I believe in drawing from a strengths-based approach and promoting resiliency and self-advocacy in our young adults. My work focuses on helping participants identify their individual strengths, and develop coping strategies to improve their lives.
What makes Stella's Place programs unique?
At Stella's Place, young adults have a say in their recovery. We constantly adapt to feedback and aim to bring participant voices and perspectives into our teaching. We strive to make the group experience playful, engaging and dynamic.
For example, our groups have a peer supporter, or someone who has been through the group as a participant before. Peer supporters are able to share and reflect on their own lived experience related to those skills. They are instrumental in bridging 'skills teaching' with real life experiences. Participants have identified this as a crucial element of their learning.
We use many experiential activities, pop culture references, memes and scenarios to better illustrate ways to manage difficult emotions. Our manual has been specifically designed to be meaningful to the experiences of young adults.
Another way we learn is through fun role plays. These promote a better understanding of the skills discussed and keep everyone engaged. We also invite group participants to lead mindfulness exercises as a way of making the group their own and having a sense of responsibility. Basically, we make the groups as interactive and engaging as possible!
Every week, we provide feedback forms and take every effort to incorporate suggestions into our next session. Evaluation is just another way we ensure young adults have their voice represented.
In celebration of Brain Awareness Week, we will be having an information booth at Can-Bind Family & Friends Event, on March 20th at the WE Global Learning Centre. This year's theme is 'brain health and wellness in depression.' Why is it important for young adults to be part of the conversation?
Information is power, so it is crucial for young people to engage in this conversation. When we are able to recognize our own 'warning signs,' we are in a better position to seek help. It can be incredibly difficult to look for resources when we are feeling depressed. If we are able to tune in and recognize some of our warning signs before they escalate, it can be helpful. Knowing what is normal for each one of us is key. For example, if we notice that we are not spending time with friends, when it is usually something we enjoy doing, it may be a sign that something is up. The earlier in life we can bring awareness to this, the better it will be for us in the long term.
What are the biggest misconceptions that young adults have regarding brain health and depression?
Breaking down the shame and stigma around seeking support is difficult. Oftentimes, problems can escalate and multiply if left for too long. This does not necessarily mean the only way to seek support is to speak to a professional. A friend, parent, or anyone you trust can be a great support system. There are often feelings of guilt about being a burden to others which can get in the way of getting help. Having a support network of people to reach out to is crucial.
There is also a lot to be said for going back to basics and checking in around sleeping, healthy eating, exercise and substance use. These can have a huge effect on our emotional vulnerability and increase how intensely we feel and react in any given situation. These things may seem minor and obvious but are very important for our brain's health.
What is your hope for Canada's future in delivering mental health programs that are relevant, meaningful and engaging for young people?
We need to continue listening to young adult's voices and feedback as we design and deliver mental health programs. These voices are integral in learning what is working and what is not. Bringing a peer focus into the programming is a game changer and can help with participant buy-in, as peers can bring authenticity into what is being delivered. At Stella's Place, this unique approach has appealed to our participants and as a result, some have felt inspired to seek employment in the peer support field.
Having open and vulnerable conversations about mental health is also critical. Life is changing so quickly and it is easy for mental health programming to get left behind. Programs have to stay dynamic and engaging in order to be relevant and meaningful.
Lastly, I'd like to see more support for agencies who are providing free, accessible services for young adults. Walk-in services are very much in demand and can often be a participant's first time seeking help. It is therefore imperative they have a positive experience in order for them to continue to seek services in times of need.
–
Miriam will be present at CAN-BIND Family and Friends Day, a free, annual outreach event highlighting different aspects of brain health and improvements in depression care and treatment. We hope to see you there!
We want to stay in touch, but don't worry, we don't send too many emails and you can unsubscribe any time.