Connect Young Adults with Stella's
For Professionals
What you need to know about Stella's Place:
Stella's Place is the go to place for young adults in Toronto with mental health challenges. We work with a range of partners to be responsive to the needs of young adults.
Who we serve/who you can refer:
We will be able to respond in a number of ways to the needs of:
16 to 29 year olds with emerging or existing mental health needs/disorders which may be moderate to severe
young adults who live in the Toronto area
young adults who may or may not be connected with a responsible clinician in the community
young adults who do not require inpatient treatment (due to acuity of their mental health need, imminent danger to self or other)
young adults who are interested in becoming involved in a peer support community as participants, peer supporters or learners (in our Peer Support Training and other skill development programs)
As we are a start-up organization, supported through private donors, foundations and government grants, we are gradually building the full menu of peer support, clinical, wellness, employment, creative studio and recovery programs.
Our approach integrates peer support, clinical and recovery services to ensure that young adults have access to the personnel that can best assist them to identify and build on their strengths, and to meet self identified goals.
For information on what we offer please see information on specific programs that are currently available.
Clinical and Recovery Services
Stella's offers comprehensive, evidence-based assessment and treatment delivered by a team of allied health professionals and specifically designed for young adults suffering from anxiety and mood disorders and other mental health issues. Motivational interviewing and goal setting is the first step to engaging young adults, in order to ensure that their priority needs drive the assessment process. For young adults who require the most intensive involvement, thorough biopsychosocial assessment and joint development of an individual wellness plan will be the basis for building an individual schedule. A range of individual and group interventions are available, including but not limited to Emotion Regulation and Relapse Prevention, Dialectical Behaviour Therapy, Cognitive Behaviour Therapy and Mindfulness Based Cognitive Therapy (MBCT). Find out more about 
Clinical Services
.
Peer Support
We offer structured opportunities for young adults to receive support, both online and in person, from peers who have lived experience of mental health issues. Peer supporters are graduates of the Peer Support Training Certificate program co-designed by young adults from Stella's Place and CMHA Toronto, and delivered in partnership with George Brown College. Peer supporters have roles as online chat supporters, navigators, coaches and activity facilitators.
Young adult leaders and peer supporters at Stella's Place offer a range of wellness and recovery education programs including WRAP, PeerZone, and facilitated group activities to support discovery, connection, wellness and recovery. Find out more about Peer Support.
Stella's Studio
Creative arts are an important means to achieve mental health. We offer lots of opportunities for engagement in visual and language arts and music in our Studio space. Young adults currently lead these programs and are active in our space. Find out more about 
Stella's Studio
.
Family Member / Caregiver Education and Support
In partnership with Family Outreach and Response (FOR), we offer family support and education programs for friends and self-defined family members at our hub location. Find out more about 
FamilyConnect
.
Our Commitment to Outcome Evaluation
Since the first stage of program development, we have monitored and asked for feedback to ensure the engagement of young adults in all aspects of program development and delivery. This has allowed us to refine our engagement practices throughout our development.
Our Evaluation Framework has been developed with young adult research partners, research and evaluation experts and organizational leaders. Young adults have identified key outcomes they want to achieve including:
Decrease in clinical symptoms and distress;
Increase in self management/efficacy skills;
Increased engagement in treatment and recovery process (with Stella's Place community and personnel, connection with peers);
Positive movement towards self-identified goals related to school, work and meaningful involvement in communities of choice.
Indicators, measures and targets have been developed and annual reporting will be included in the Stella's Report Card. Ongoing collaboration with national initiatives in the young adult mental health has resulted in a strong network of providers who will learn from each other about strong and effective evaluation and quality improvement practices.
Our Partners
We work with a range of community-based and hospital partners in program development, training initiatives and service co-delivery and co-location. Find out more about 
Our Partners
.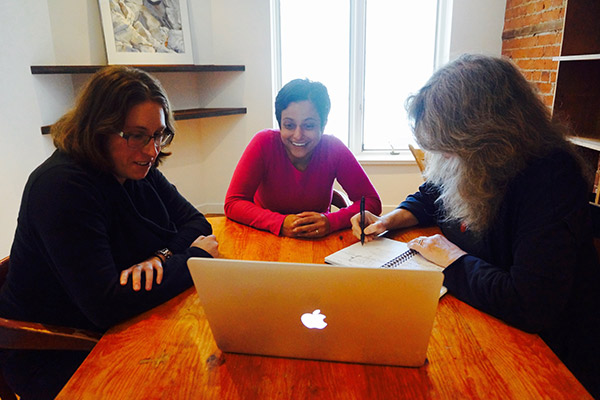 How to connect with us
Young adults can connect directly with Stella's Place, either online, by phone, or by coming to our Camden Street, Toronto location. Find out how to contact us.
If you want to refer a young adult to Stella's Place, please complete the referral form (PDF or Word) and consent form attached here (PDF or Word) for your convenience.
For more information on our programs, referral processes and young adult community, please contact: email: [email protected] or call: 416-298-4098
We want to stay in touch, but don't worry, we don't send too many emails and you can unsubscribe any time.