What We Offer
Stella's Studio
Our Vision: Stella's Studio is an arts-based community where peers are welcome to connect, create and contribute.
About Us: Stella's Studio Meet Ups are weekly groups where peers create and share art, including drawing, writing, painting, improv, and music. Group members are actively involved in co-creating Stella's Studio. Young adult participants are invited to experiment with new ideas and mediums, and lead activities and creative sharing. We also host Open Mic Nights where peers share their stories and express themselves. New members are always welcome!
Interested in learning about Stella's Studio?
For more information, contact Carol Krause, Stella's Studio Curator, at 416.461.2345 or [email protected] or look at What's On at Stella's.
Reference: Occupational Therapy and Mental Health. (2008) Eds. Jennifer Creek & Lesley Lougher. Elsevier Ltd.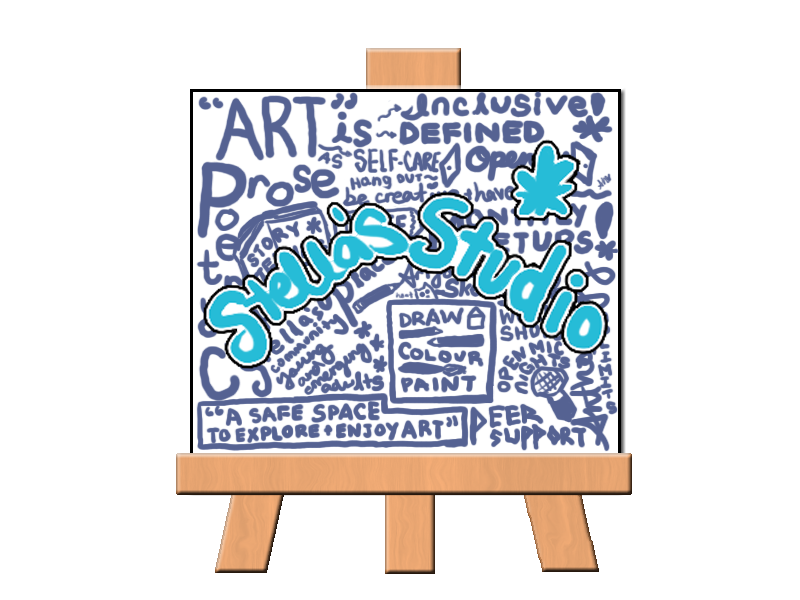 "I feel like it's a place where people can change the scope of mental health. And people can change how they see mental health. I see it as a place for everybody, no matter who or what you are. If you want to feel part of something, you should go to Stella's Place."
Stella's Place Community Member
We want to stay in touch, but don't worry, we don't send too many emails and you can unsubscribe any time.